GIGS
If you'd like us to do a fundraising gig (or any sort of gig) in your area, contact us here.
2022 GIGS
DINGWALL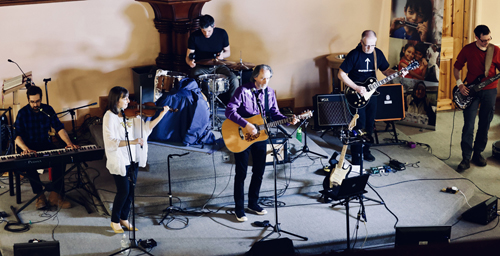 The second gig in our 'Hard As Nails' tour took place in Dingwall Free Church. We were supported by John Wilson and friends (including my old friend Jimmy Gunn). And thanks to John for this photo. there were one or two glitches, including my being deaf in one ear and pulling over my acoustic guitar! We raised £230 for Blythswood. The same band apart from Jon Green.
EDINBURGH
Our first gig in two and a half years took place in Buccleuch Free Church. this was the first time we used Eventbrite for booking tickets. We raised £615.64, split 50/50 between Cancer Research UK and the Buccleuch Refurbishment Fund. I was joined by Rob MacDonald (drums), Phil Onslow (bass), Olivia Ross (fiddle and backing vocals), Donald Forsyth (lead guitar), Cailean Morison (keys and backing vocals) and Jon Green (trumpet).
2019 GIGS
GARDENSTOWN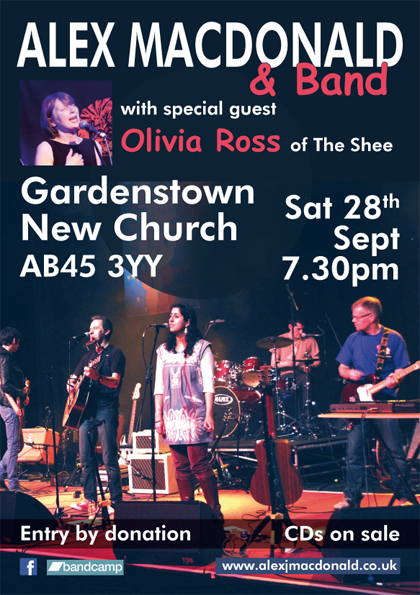 We're playing Gardenstown, lovely old fishing village on the Moray Firth coast of Aberdeen-shire on Saturday 28 September in Gardenstown New Church (AB45 3YY) 7.30pm. We're going to be joined again by Olivia Ross of The Shee.
OBAN
Can now confirm that the Oban gig will be in Oban Baptist Church, Albany Street, Oban, PA34 4LG, on Saturday 3rd August at 7.30pm. We are delighted to have Olivia Ross of The Shee guesting with us again on fiddle and backing vocals. The pic is of Olivia in full flight at The Red Lion Folk Club, Birmingham, on tour with The Shee earlier in the year. Check out their Facebook page. The concert is going to be a kind of curtain-raiser for the Argyll Convention which runs 6-8 August.
First gig of the New Year is in Newmilns, Ayrshire on Saturday 2nd February. If you're in the area it would be great to see you. It's being promoted by Covenant Church and will be in Morton Hall, Newmilns, starting with curry at 6.30pm!
2018 GIGS
Our gig in Smithton raised £380 for Compassion in Crisis. Thanks to all who came and donated. Thanks too to the band who travelled from far and wide to be there and especially thanks to Olivia Ross of The Shee who played on more songs than she'd intended due to the sad last minute call-off from Donald Forsyth (broken finger!) Hope it heals soon, Donald!
Our last gig of 2018 is in Smithton on Saturday 1st December at 7.30pm. This is in Smithton Church, Murray Road, Smithton, IV2 7YU. We're delighted to have a special guest - Olivia Ross of The Shee - and we'll be debuting a new song, my tribute to my good friend, the late Rev Kenny MacDonald. Should be a good night!
We've got an acoustic gig as part of Doors Open Day in Edinburgh (the Causey outside Buccleuch Free Church) on Saturday afternoon (29 October) between 1pm and 3.30pm. Also playing are the Edinburgh Uni FolkSoc Ceilidh Band and possibly the Bethany Choir, along with some traditional Greek dancers! Should be a good day! Come along and support if you are in town.
We're playing Livingston on the 6th October, then Smithton on 1st December.
I'm playing a solo gig in An Caladh, Benbecula, on Saturday 8 September at 7pm.
The following Saturday (15 September)the band are backing me in Helmsdale at 7.30pm in the Free Church (the old police station - hope we give an arresting performance!)
This Sunday (13.5.2018) I'm playing in Golspie, Sutherland. The local Free Church has started special events called Café Church and I've been asked to sing and tell some personal stories. Donald Forsyth will be backing me on guitar, and I'm really looking forward to be back on my home turf and playing acoustic. It kicks off at 6.30pm and the Free Church is on Church Street, Golspie KW10 6TT. If you're in the area, it would be great to see you, and please invite your friends and family.We're playing Dundee Saturday 5th May at 7.30pm in St Peter's, 4 St Peter Street, Dundee, DD1 4JJ. There was a glitch with the publicity for this gig, so please publicise it to any friends in the Dundee area. The Dundee show is a fundraiser for Andy Robertson's work in the new Charleston church plant in Dundee.
Great night in Glasgow City. Raised nearly £500 for Govan outreach. Many thanks to all who came and donated and helped, not forgetting the band! See the video page for a video of most of our performance of "Into the Light".
Dingwall gig this Saturday (10 March) in Dingwall Free Church, High Street, IV15 9HA at 7.30pm. We are delighted to have Olivia Ross of the Celtic folk roots band The Shee playing with us.
Thanks to all the brave folk who made it to the Aberdeen gig last Saturday (3 March) in Bon Accord Church despite the weather!
2017 GIGS
EDINBURGH - NEW ALBUM LAUNCH
The new album, INTO THE LIGHT, was launched at a special fundraiser for Bethany Christian Trust homeless charity on Saturday 25th November in Edinburgh. You can get a link on my Facebook page to a video Colin MacDonald took with his phone. In spite of a cold night and a low turnout we managed to raise £226 for Bethany. It was a good night and the band played great.
CARLOWAY
Next gig is in Carloway on Saturday 18 November at 7.30pm in the local Community Centre. This will be a solo concert, as it's a bridge too far (or no bridge!) for the rest of the band. First gig in Lewis, so really looking forward to it.
CAMPBELTOWN
We returned to Campbeltown for our third visit. The gig was on Saturday (9.9.17) at 7.30pm in the Free Church, George Street. It was a fundraiser for Tearfund and local charity Shopper-Aide.
Enjoyable gig in spite of problems with the sound. Usual story: worked perfectly at the sound check, and just before we went on, the gremlins started! But got it working reasonably and the 70 folk there enjoyed it, so that was good. We debuted some of the new songs which seemed to go down well. Thanks to Cailean Morison for driving his van and to him and Phil Onslow for great backing. Many thanks to Calum and Liz Ferguson and to Nikki for hospitality. Local reporter was there, so there should be some photos in the local Courier this week.
STIRLING
Alex is playing a solo gig this Sunday (6/8/17) 6.00 pm at The Well, 24 Upper Craigs, Stirling, FK8 2DG (The Well is a community centre run by Stirling Free Church). Gospel in story and song. Alex intends to sing a couple of the new songs including "Into the Light" (based on Murdo Murchison's blog). Great if you could make it!
LENNOXTOWN
Solo gig coming up - first for a while - in Lennoxtown Free Church, Main Street, G66 7DD, on Friday 30th June at 7.30pm - Gospel in Music and Story. Might air one or two of my new songs.
2016 GIGS
The Kyle gig is taking place on Saturday 18 June at 6pm in the Dornie Community Hall (8 miles east of Kyle on the A87). The exact address is Dornie and District Community Hall, Aird Point, Ardelve, Dornie, Kyle of Lochalsh, IV40 8DY. This begins with a curry night at 6pm.
We are also playing in the Edinburgh Fringe - Fringe@Buccleuch, 7.30pm Saturday 20 August. This is part of the official Fringe Programme. Cailean Morison will be doing a solo set as well as doing his usual keys/backing vocals for the band.
An Caladh, Benbecula, Saturday 27 August. This will probably be a solo gig as it's a bridge too far for most of the band!
Change of date for Tarbert (Argyll) - Saturday 3 September at 2pm (note the time!)
2015 GIGS
We've been asked to play Shott's Prison (not quite San Quentin or Folsom...) - Tuesday 29th December. Also requests to play Kyle of Lochalsh in April and Tarbert (Argyll) and Lochcarron - dates to be arranged.
Elgin 7.30pm Saturday 28 November. This is in Cailean's home church and the whole band intend to be there - Alex, Rob, Cailean, Phil, Jon and Rebecca.
An Caladh, Benbecula 7.30pm Saturday 3 October. This is a solo gig for Alex, who's looking forward to returning to An Caladh.
Kennoway, Fife - fundraising gig for new church community centre - 29 August - at local parish church. Just Alex, Rob and Phil (our new bass player) at this one, but it went down well, and raised a good amount for the new Church Community Centre fund.
Edinburgh Fringe 9pm Saturday 22 August - Buccleuch church is a Fringe venue (Venue 384) for a week for various drama and music events and the band are playing on the Saturday.
Picnic & Praise at Urquhart Castle, Loch Ness - 7pm Sunday 26th July. This is a well attended open air event organised by the three local churches in Drumnadrochit. The band are excited to be playing there!
Rogart Free Church 7.30pm Saturday 25 July. The Free Church is signposted 1 mile north of Pittentrail/Rogart on the A839 Lairg Road
2014 GIGS
Campbeltown
Campbeltown Saturday 29 November at 7.30pm in Campbeltown Free Church, George Street, PA28 6EJ. Band will be Rob, Cailean and Alex - CDs on sale.
Dornoch
Dornoch (solo) gig now in Dornoch Academy (new church building not ready in time) - 7.30 pm Saturday 1 November - Dornoch Academy, Evelix Road, Dornoch IV25 3HR.
Gairloch
Gairloch Saturday 27 September at 7pm in Gairloch Community Hall - FREE admission - CDs on sale. Hopefully Dundee gig 25th October. Dornoch Saturday 1st November, and a gig in Campbeltown before the end of the year.
North gigs
We're heading north in June to Alness and my home strath for a couple of gigs. The Alness gig is in the new Capstone Centre (old Co-op), Alness, IV17 0SW, on Friday 13th June. The other gig is in the Kildonan Hall, Strath of Kildonan, Sutherland on Saturday 14th June. If you want to find the Hall on Google maps, you will need to search for Kildonan station, and the Hall is just across the river from there! Both shows start at 7.30pm. Band line-up: Rob MacDonald on drums and percussion, Cailean Morison on keys and Alex on vocals, guitar and harmonicas - bribes of La Mirage fish suppers didn't work with others! See my Facebook page for updates. If you're free either (or both) of these nights, it would be great to see you.
Burns Night Fundraiser
I've been asked to play at a Burns Night fundraiser for International Justice Mission (IJM), a Christian human rights charity. It's in the Salt Yard Café, 158 Dalry Road, Edinburgh, EH11 2HB, at 7pm on Saturday 25th January. Jon and Rebecca Green and Cailean Morison are backing me, and others will be performing, including Martha Middlemiss. Click for more details of IJM or for more details of the gig. If you're free that night, it would be great to see you.
A9 TOUR
We're organising a fundraiser in GLASGOW in support of Norman Mackay's new outreach project in Govan. Norman, who has been minister in Falkirk for the past number of years, feels a strong call to return to work in his native Govan.
Glasgow gig date - 7.30pm Saturday 14 September @ 'Greek Thomson' Glasgow City Church Hall, 265 St Vincent Street, G2 7LQ - a fundraiser for Norman Mackay's G51 Govan Church Plant - entry by donation on the door - suggested minimum donation £5.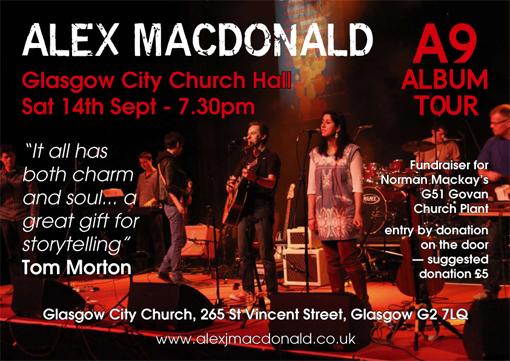 There will also be a show in DUNDEE in October
It's great, most of the musicians who played on the album, are backing Alex on the A9 tour.
INVERNESS gig was great. Band played really well. Good crowd, and money raised for local charity providing respite for parents of children with special needs.
Further dates hopefully announced soon - Glasgow and Dundee possibles...
EDINBURGH went well. Raised over £300 for Bethany Homeless Shelter.
The CD is now released. There's a mix of rocking band numbers and quieter more contemplative songs. Different feel from Like the River - no long Dylanesque story songs (!) but more love songs. Also recording quality is much better, and Doug's production is imaginative and powerful.
2012 Gigs
Transatlantic Unplugged - Part of Buccleuch Festival - went well. Not a huge crowd, but appreciative. For an unplugged gig, there were more plugs and cables than anyone had ever seen! Jon Green played an amazing set with combination of electronics and musicians. Alex tried out some of the new songs and they went down well.
EDINBURGH - Part of Buccleuch Festival - 7.30 pm Saturday 22nd September @ Buccleuch Free Church. Fundraiser for two local charities, Bethany Christian Trust (homelessness) and Christians Against Poverty (debt counselling). Alex will be playing some of the songs off the forthcoming new album (being mixed at the moment) as well as some of the old favourites.
Saturday 1st September 7.30 @ the Free Church, George Street
CAMPBELTOWN
The band line-up for Campbeltown was Alex on vocals, guitar and harmonica, Rob on drums and percussion and Cailean Morison on organ and electric piano. Well received, and raised some money for MS Society and local church restoration fund.
Glenrothes Gig
Great gig at Glenrothes. The sound was superb.
Great night at Live in Leith! Around £5000 was raised for Love Oliver. Well done everyone!
Autumn Gigs (2011)
Two big gigs coming soon... Book your tickets now - time is running out!
First one is in Leith Town Halls (the Thomas Morton Hall), Edinburgh, EH6 4AE, on Saturday 8th October (doors open 7.30pm).
Second one is in Rothes Hall, Glenrothes, Fife, KY7 5NX, on Saturday 26th November (doors open 7pm).
Both are to raise funds for Love Oliver - a charity supporting research into childhood cancer set up by Andy and Jennifer, after their baby Oliver died aged just 24 weeks. It's hoped that the book "Love Oliver" will be on sale at both gigs.
You can get more details and book tickets for the Leith gig here.
Tickets for the Glenrothes gig can be purchased via the box office – 01592 611101 – Adults £12, Concessions £10, Under 16s £7.
For archive of previous gigs go here.