After a long lay off due to family and other reasons, we have a concert lined up for 4 November in Edinburgh. Also on the bill will be George Coghill, an amazing baritone whose repertoire ranges from classical to musicals to Scottish songs. This will be a fundraiser for an exciting new church plant in Galashiels. Venue: Buccleuch Free Church, West Crosscauseway, EH9 8JP. Time: 7.30pm.
THE FORGE
by Alexander James MacDonald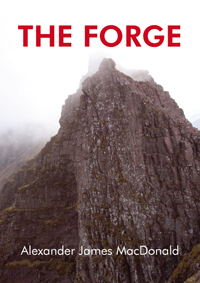 It will no doubt be of interest to our fans that Alex has just had a novel published. It's called THE FORGE and is available from AMAZON in hardback, paperback or Kindle. For those familiar with Alex's songs, The Forge gives the complete legend behind one of his best known songs.
A tragic death sets old Highland crofter Dan Mackay on an unlikely collision course with organised crime and corrupt elements in the Edinburgh establishment. They underestimate him at their peril.
The action takes place against the backdrop of the breath-taking scenery of the North-west Highlands and Edinburgh's historic cityscape. It involves a thrilling car chase through the heart of Scotland and a dramatic climax on one of Scotland's most spectacular mountains.
The filmic quality and the engagement with philosophical and spiritual questions mean that this work is much more than an exciting crime thriller. It is a tale of both nemesis and redemption.
It has received the following commendations.
The footsteps of Scott,
The sea-spray on the lips of Stevenson,
The morning eye of Buchan,
The medical judgement of Conan Doyle,
The companionship of young and old across time in Neil Gunn
-
The Forge
stands proudly among them.
- Owen Dudley Edwards FRSE
I first came across the redoubtable character Dan Mackay in song, and as Alex MacDonald's wonderful singer/songwriter narrative played out, I couldn't help but see the story on the big screen. In the prose format, the character remains as engaging as ever. This is a big story, a compelling parable, a mighty morality tale rooted in the Presbyterian Highlands, but finding resolution in the places where themes are universal and global. Dan Mackay is a blockbuster of a character and The Forge will keep you hooked till the very end.
- Calum Macdonald (Runrig)


NEW ALBUM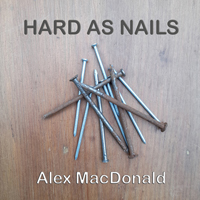 The latest album is available for download from Bandcamp, and you can order CDs on the SALES page here. Hard as Nails was recorded, mixed and mastered at Black Isle Recordings by Steve Adey. Joining Alex were Rob Macdonald (Drums and backing vocals), Phil Onslow (bass), Cailean Morison (organ, piano and backing vocals), Donald Forsyth (electric guitar) and Olivia Ross (fiddle).
BANDCAMP
The album is also available to download from my BANDCAMP page. Bandcamp is very fair to artists compared to other streaming platforms as they only charge a small fee, and you can easily load the downloaded tracks to your favourite audio app.
All previous albums are also available for download from BANDCAMP.
CLIPS
You will find clips of all the songs off all the albums on the ALBUMS page, and information about each song on the INFO page.
Some comments on Alex's
music:
"Good 'real' music of heart and substance and message."
Calum Macdonald (Runrig)
"I very much enjoyed your CD - particularly the opening track, which is like a Calvinist Lily, Rosemary and the Jack of Hearts."
Tom Morton (Broadcaster and journalist)